Low cost Scanning Probe Microscope Certus Light V series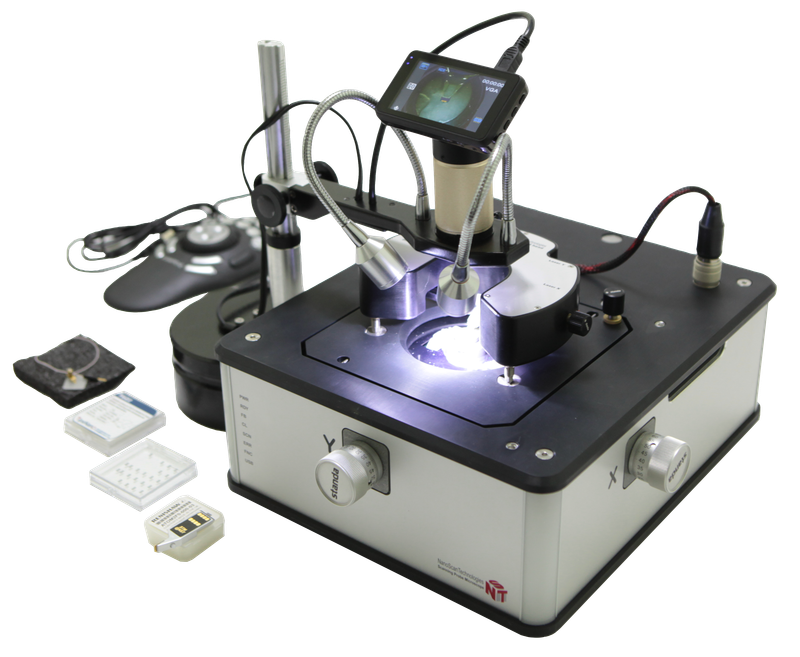 Certus Light V
Certus Light V - compact version of the SPM with low price and minimized options. The main difference from the basic version Certus Light - scan by sample and more accurate approach system. The device consists of head with cantilever deflection sensor, multifunction flat scanner, approach system, simple basement . The device has buil in electronic control unit with remote control of the instrument via a tablet computer with the use of specialized software for OS Android.
Improved SPM head with tip holder,

made ​​on the basis

of the SIM card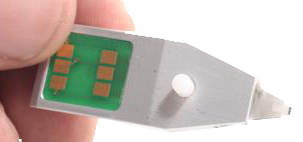 Easy in use tip holder made ​​on the basis of the SIM card provides a simple, quick removal and installation of the probe holder. It fits to  any cantilevers , available in the market from third-party manufactures. SPM head made with "short base" configuration t, with a minimum distance between the supports to give maximum rigidity design. Open space above the location of the probe,  provides access high multiplicity optics, with working length of 10 mm.
Summary of parameters

:
| | |
| --- | --- |
| Tip to sample approach system | |
| Minimum step | 100 nm |
| Implementation | Step motor |
| Sample positioning | |
| Range | 10x10 mm |
| Implementation | microscrews |
| Accuracy | 1 mkm |
| Scanning range XYZ | 100x100x15 mkm |
| Position sensors accuracy | < nm |
| Mimimum scan step | 0.1 nm |
| SPM head | |
| Laser spot arrangement | 2 micro screws with 0,125 mm pitch |
| PSD arrangement | 2 micro screws with 0,125 mm pitch |
| Cantilever holder | Исполнение по типу SIM карта |
| Built-in Drive Piezo, U range | -10..+10V, 0..10 MHz |
| Tip Bias Voltage range | -10..+10V |
| Flat scanner | |
| Type | scan by sample [xyz stage] |
| crosstalk XYZ | 0, axes fully independent |
| scan range | 100x100x15 mkm |
| Position sensors | Optical encoders wth с sin/cos interpolation |
| Sampling rate | 300 kHz |
| Accuracy | < 1nm |
| Optical microscope | |
| Zoom | 85...1050x |
| Detector | CCD |
| Interface | HDMI |

Габаритные размеры: